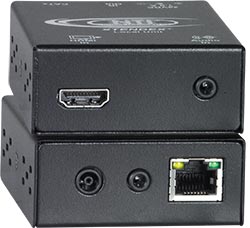 DORSET, UK: Network Technologies International Ltd today announced the addition of the XTENDEX® HDMI IR Extender to its popular line of Extenders.
The ST-C6HDMI-IR-300 HDMI IR Extender transmits digital video and audio signals up to 300 feet using one CAT5e/6/7 cable. Each video extender consists of a local unit that connects to an HDMI source and IR emitter, and a remote unit that connects to an HDMI display and IR receiver.
The extender supports full IR control of the HDMI source from the remote HDTV using the existing source remote control, and includes the IR emitter and receiver.
Ideal for digital signage solutions, these extenders support HDTV resolutions up to 1080p and computer resolutions up to 1920x1200. Only one power supply (included) is necessary to power both the local and remote units, which can be applied at either end.
For more information, visit http://www.ntikvm.co.uk/hdmi-extender.html