Optional Ethernet Control for the Console Serial Port Switch
Ethernet Control
Optional control method. Available on all models.
Female RJ45 connector.
10/100 BaseT Ethernet interface.
Supported protocols: HTTP, HTTPS, Telnet, SSL.
Configuration and control can be done over the Internet via Web Interface or Telnet.
Features
Web Interface for switch configuration and connecting to Console Serial Ports.
Connect to the Command Line Interface or Console Serial Ports via Telnet clients such as HyperTerminal, Tera Term, PuTTY, PuTTYtel, etc.
Perform configuration tasks available through the Command Line Interface.

Execute frequently performed configuration tasks through script files.
Save the configuration of the switch, and perform configuration restoration if needed.
Restore default configuration parameters to specific parts of the switch, while leaving other custom configuration parameters intact.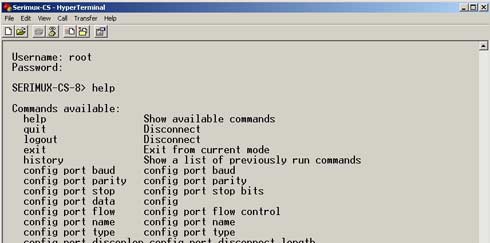 Command Line Interface (CLI)
Display and configure port parameters, connect/disconnect ports, clear port buffer, view/modify user list/settings, configure telnet base port, update firmware, and more.
Only one user at a time with administrative privileges can access the SERIMUX via Telnet.
Commands are keyword based, nested in a hierarchical format.
The CLI may be accessed via Telnet port 23.
Command autocompletion can be accessed by typing a partial command, and then pressing the TAB key once.
Context sensitive help can be accessed by pressing the TAB key twice.
Web Interface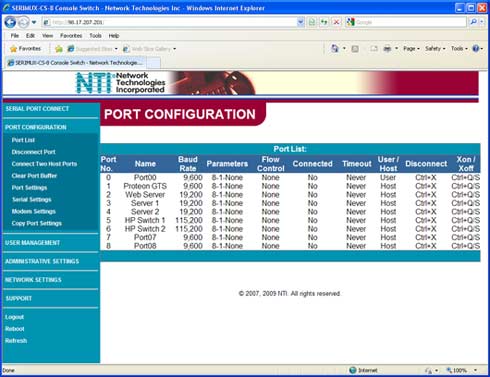 SSL (Secure Sockets Layer) is a popular way to encrypt information over the Internet. Websites use SSL to create an encrypted channel allowing the user to send and receive data securely.
With the Ethernet Option on the SERIMUX® Console Serial Port Switch, this secure channel is used to configure the console switch via the SERIMUX Web Interface (view product demo).
Using the website, a remote user can manage ports and users, clear the Port Buffer, create and initiate modem connections, and other administrative tasks safely and conveniently.
The Telnet feature of the SERIMUX Web Interface requires the latest version of JAVA™.(Screen shot) Configure the SERIMUX Console Serial Port Switch via the Web Interface.